Awards
TRIPADVISOR CERTIFICATE OF EXCELLENCE 2015!
And now for the second year in a row, The Nadler Liverpool have won the Certificate of Excellence!
Now in it's fifth year, this sought after award shows we won't let our standards slip. We can't wait to get our badge next year. It's no wonder we have recurring guests, and we're only more than happy to welcome them back. Come and experience The Nadler Liverpool for yourself and find out why we have been awarded Excellence for consistently good service.
TRIPADVISOR CERTIFICATE OF EXCELLENCE 2014
This prestigious award recognises businesses that consistently earn top ratings from TripAdvisor travellers!
Now in its fourth year, the award celebrates hospitality excellence and is given only to establishments that consistently achieve outstanding traveller reviews on Tripadvisor.
Winners of the Certificate of Excellence are located all over the world and represent the upper echelon of businesses listed on the their website, with only the top 10 percent receiving the prestigious award.
Nadler Hotels wins "Small Group Hotel Employer" award at Caterer.com's Best Employers in Hospitality Awards 2014

Nadler Hotels was named Best Small Group Hotel Employer at Caterer.com's Best Employers in Hospitality Awards 2014 onMonday night, as well as taking prestigious fifth place in the Top 60 Best Employers in Hospitality 2014.
Now in their fourth year, Caterer.com's Best Employers in Hospitality Awards are the only established, recognised and free to enter employer awards in the hospitality industry. Judged solely on employee responses to an online engagement survey, the highly sought-after awards recognise hotels whose employees show outstanding levels of motivation, loyalty, productivity and commitment.
The General Managers of Nadler Hotels' three properties were present at the event at Lancaster
London to receive the award, and were delighted with the announcement.
With currently two hotels in London (Kensington and Soho) and one in Liverpool, the Nadler's innovative approach and affordably luxurious boutique hotel rooms in desirable city-centre locations don't just offer a stay, but an experience.
The Nadler Kensington, formerly called The Nadler, was chosen as the Best Family Hotel in London by
The guardian has listed The Nadler Liverpool as 3rd Best Boutique Hotel in the UK under £100. Tripadvisor has also voted The Nadler as one of the best bargain hotels. At such an affordable price, this hotel is a great choice for your stay in Liverpool.
CIvic Trust commendation
Following the 2013 Civic Trust Annual Awards ceremony, we are thrilled to have received a special commendation based on the architecture and design of our hotel as well as for our positive impact on the city.
The Civic Trust said the following:
"The simplicity of The Nadler Liverpool's conservation created a real urban feel to what is effectively a new type of hotel experience.
The reuse of a long term redundant building has enhanced the immediate Rope Walks area and adds value to the street scene, benefitting both the wider civic area and the community. The nature of the hotel, without a bar or restaurant, ensures that guests use the immediate business community to socialise, bringing economic benefits to both the hotel and the immediate area."
We are really proud of this Civic Trust Commendation, as it recognises not just the architecture, but also the social impact of our business, and in particular our unique hotel concept, which has social sustainability as a core element, so this is especially pleasing for everyone working at The Nadler Liverpool!

MERSEYSIDE CIVIC SOCIETY REFURBISHMENT AWARD
We were so pleased to receive the Refurbishment Award at the Merseyside Civic Society Awards in 2012!
GrEen Tourism Gold
Following July's release from Green Business UK we are very excited to announce that the only thing that goes green more effectively than us may in fact be the Incredible Hulk!
Everyone here at The Nadler is truly chuffed to have been awarded the gold level rating for Green Tourism. Environmentally friendly tourism is something that we have always prided ourselves on and this award is a well deserved pat on the back for many members of our team but particularly Scott Marsh who has been a major driving force behind our green program.
Green tourism is a major part of the The Nadler concept and we are constantly adding new initiatives in both Liverpool and London that we hope will allow us to maintain and improve upon the standards that earned us this gold rating.
Best Employers in Hospitality Awards 2012!
We are thrilled to have been awarded 5th place in the Best Employers in Hospitality Awards 2012!
Congratulations to Damian Jones who has won the award for Excellence in Customer Service at the Liverpool City Region Annual Tourism Awards 2012 - very well deserved!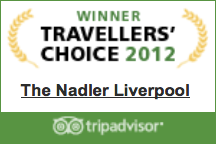 The Nadler Liverpool scoops three 2012 TripAdvisor Awards
Each year, Trip Advisor announces its "Traveller's Choice Awards" based on millions of user reviews across thousand of hotels around the UK. In January 2012, The Nadler Liverpool was awarded three prestigious Trip Advisor Awards:
Winner, Traveller's Choice Awards 2012, Top 25 UK Hotels - ranked 16th
Winner, Traveller's Choice Awards 2012, Trendiest Hotels, UK - ranked 12th
Winner, Traveller's Choice Awards 2012, Bargain Hotels, UK - ranked 21st
Not only is this the first time ever that a Liverpool hotel has been named in the UK's top 25, but being ranked a top hotel nationally as well as trendy and affordable speaks volumes about why our customers keep returning to The Nadler Liverpool.
Not surprisingly, the entire team at The Nadler Liverpool is delighted with this triple accolade, and remains focussed on ensuring that we maintain consistently high standards, and that we continue to deliver a hotel experience which meets and, where possible, exceeds customers' expectations.
Thank you to everyone who has stayed with us since The Nadler Liverpool opened. In particular, we're grateful for the time and energy which many of you have invested in providing us with valuable feedback on TripAdvisor and other leading review sites.