Awards
The Nadler Kensington, formerly called The Nadler, was chosen as the Best Family Hotel in London by Tripadvisor in its 2011 Travellers' Choice Awards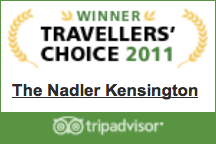 Now in its ninth year, the annual TripAdvisor Travellers' Choice awards honour the world's best hotels, earning their
distinction from those who know them best – real travellers.
Unlike any other hotel awards programs in the world, TripAdvisor Travellers' Choice® winners are based on the millions of real and unbiased reviews and opinions about hotels on tripadvisor.com and content from across the web.
With our affordable luxury boutique rooms, our hotel rates are family friendly as we charge by the room and not by the number of guests.
The Nadler Kensington is an eco-friendly hotel and has made a long-term commitment to minimising the impact that its operations have on the environment. The Nadler Kensington concept has, at its core, the three principle elements of sustainability: economic, environmental and social.
The Nadler Kensington hotel was the second hotel in London to have received the prestigious Gold Award under the Green Tourism Business Scheme (GTBS). The GTBS is the UK's leading sustainable tourism certification scheme, validated by Visit Britain through the International Centre for Responsible Tourism (ICRT).
The environmentally friendly Nadler Kensington is an accredited member of Hospitable Climates - an energy efficiency agreement between theInstitute of Hospitality and the Government. We are also an official member of the Considerate Hoteliers Association and iStayGreen.
This prestigious award recognises businesses that consistently earn top ratings from TripAdvisor travellers!
Now in its fourth year, the award celebrates hospitality excellence and is given only to establishments that consistently achieve outstanding traveller reviews on Tripadvisor.
Winners of the Certificate of Excellence are located all over the world and represent the upper echelon of businesses listed on the their website, with only the top 10 percent receiving the prestigious award.